The 15 Best Reusable Shower Caps To Preserve Your Hairstyles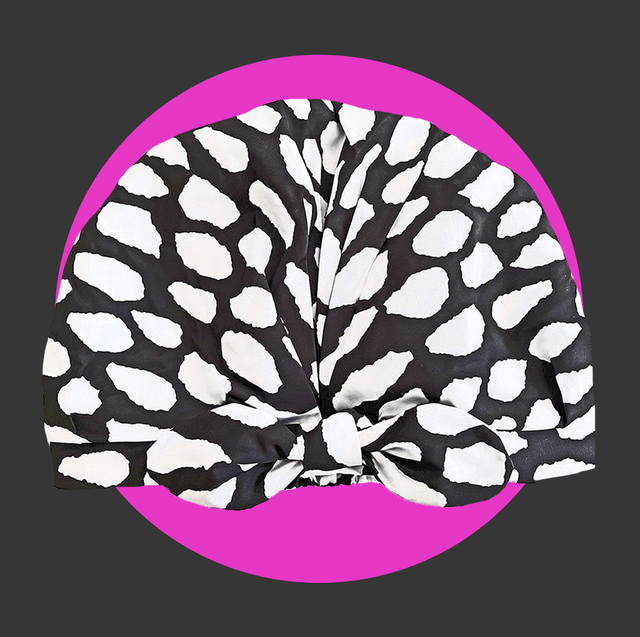 Courtesy
If you're big on rocking protective styles, maintaining your blowout, and extending the life of your curls, you already know that a shower cap is an essential hair accessory. Even if you don't fit into any of those categories, you probably have one hanging in your bathroom for preserving special occasion styles. But does that cap actually work? Or does it leave your edges damp, nape soaked, and hair frizzy? Fret no more. Gone are the days of trying to reuse those flimsy plastic shower caps that lose their strength after each wash. We're moving on to bigger, better, and more sustainable things. Below, we've rounded up the best shower caps to invest in for every need, concern, and price point.
Advertisement – Continue Reading Below
1
Palm Tree Print Pink Reusable Shower Cap
CelliesCurls
etsy.com
$35.38
Bring the tropical vibes straight to your bathroom with this adjustable shower cap dipped in bright green palm trees. 
2
Luxury Shower Cap For Women
Grace & Company
amazon.com
$25.00
A shower cap that makes you feel like you're staying at a five-star hotel. Adjust the bow for a tighter fit.
3
Satin-Lined Adjustable Shower Cap
ShiviHairCareInc
etsy.com
$10.99
Not only does this cap keep the water from touching your hair, but the soft satin lining prevents any tugging or tension to preserve any hairstyles while you scrub-a-dubb-dubb. 
4
AfroShower Large Royal Blue
Swimma
swimma.co.za
$16.95
Swimma produces protective headwear for swimmers with natural hairstyles—locs, twists, natural hair, etc.—so who better to trust when trying to protect your hair in the shower? 
5
Best Overall
Fashionista Collection Mold Resistant Lined Shower Cap
Over 5,000 Amazon reviewers anointed this the number one shower cap on the site. It has a mold-resistant, PEVA lining (a safer alternative to carcinogenic PVC), a firm elastic band, and a roomy interior. It's also very easy to clean since it's machine washable.
6
Goody Styling Essentials Shower Cap, Colors Vary 1 ea (Pack of 5)
This product possesses everything you want in a shower cap: a secure elastic band, sturdy design, and large size. It's also great to use for deep conditioning treatments since the interior is easy to wash out.
7
Best Adjustable
Adjustable Shower Bonnet, Green
If a weak elastic band is your pet peeve, you'll love the adjustable straps of this waterproof bonnet. Make a tight knot when you're taking a steamy shower, and then loosen it up when you're doing your skincare routine. We love that it doesn't leave behind an annoying indent.
8
Best Eco-Friendly
Shower Cap Terrycloth-Lined
Klorane
dermstore.com
$18.00
If you want to make an environmentally friendly purchase, this BPA- and PVC-free shower cap should be your top choice. Scientists believe that BPA, a chemical used to make plastic, may act as a hormone disruptor. When absorbed into the water supply, it can negatively effect aquatic life. 
9
Best for Braids
Braid Shower Cap
M&M Headgear
walmart.com
$4.22
Waist-cascading box braids or passion twists can comfortably fit into this sack-like shower accessory. It features a velcro button that allows you to easily pull your protected tresses off your shoulders like a traditional cap.
10
Best Stylish
Luxury Shower Cap
Fashion and function effortlessly come together with this bonnet-like shower cap. You can choose from several sophisticated prints that range from chic stripes to cool-tone florals. While the front is adorned with a flirty bow, the back has an elastic band that allows you to comfortably tuck in all of your hair.
11
Best for Thin Hair
The Stir
SHHHOWERCAP
revolve.com
$43.00
SHHHOWERCAP is hands down one of the most well-thought-out hair accessories. It's made with a non-plastic, nano tech fabric that effortlessly repels water and has an anti-bacterial coating to prevent mildew. Moreover, its distinct turban silhouette and eccentric prints make it wearable outside the bathroom (to, let's say, the pool). Although reviewers rave about its multi-functionality and fun design, it's important to keep in mind that thicker-maned individuals find it difficult to hold all of their hair. 
12
Best for Thick Hair
Premium Collection Super Jumbo Shower Cap
How big is this shower cap? Probably large enough to accommodate Rihanna's lush faux locs in Ocean's 8, Ariana Grande's signature flowing ponytail, the late Amy Winehouse's trademark beehive, and Diana Ross' famous afro. Check the review pictures if you don't believe us.
13
Best for Thick Hair (Runner-up)
Waterproof Reusable Women Shower Caps
QBA
amazon.com
Don't be fooled by the seemingly small appearance of this cap. Its scrunched up band allows it to expand to accommodate the thickest of tresses. 
14
Best Variety
Shower Cap
AmazerBath
amazon.com
$7.99
If you're not fond of sharing, purchase this shower cap quad so everyone in your home can have their own. We love that the eco-friendly material has a luxe, satin-appearing finish.
15
Best Anti-Frizz
Large Satin Lined Shower Cap
Glow By Daye
amazon.com
$21.96
Satin is one of the best materials for your hair since it helps to retain its moisture and reduce friction (which prevents frizz). We love that this cap helps to preserve your style in the shower, but can also be used to protect your hair at night.
This content is created and maintained by a third party, and imported onto this page to help users provide their email addresses. You may be able to find more information about this and similar content at piano.io
Advertisement – Continue Reading Below
Everything You Should Shop Ahead of Nordstrom's Anniversary Sale
Nordstrom lovers rejoice because the 2021 Anniversary Sale is practically here. The annual sale from everyone's favorite department store officially kicks off on July 28th and lasts until August 8th, but if you're one of the lucky folks with a Nordstrom card sitting pretty in your wallet, you'll be able to dive into the once-a-year sale earlier than the rest of us on July 12th. This year's sale includes over 100 new brands like Nécessaire, BDG Urban Outfitters, Dyson, and favorites like Nike, UGG, Zella, Barefoot Dreams, and more. To say we're excited would be an understatement.
To guide you through the depths of the Anniversary Sale section, I present to you 24 of the best fashion deals that Nordstrom teased early that you can add to your wish list. Feel free to bookmark this page as we'll continually update this article with our favorite items as we get closer to the big day. Let the shopping commence!
1
Quay Australia x Lizzo Icy 58mm Gradient Square Sunglasses
QUAY AUSTRALIA
nordstrom.com
$55.00
$55.00 $35.90 (35% off)
Not to quote the queen Lizzo herself, but these sunglasses will have you looking good as hell. She also happens to be a Quay partner. 
2
Genuine Shearling Slipper
UGG
nordstrom.com
$100.00 $69.90 (30% off)
Few pairs of shoes are superior to Ugg's cozy slippers. 
3
Everyday Poplin Shirt
Nordstrom
nordstrom.com
$69 $45.90 (35% off)
Buy these in bulk, because you can never have too many crisp white button-downs. 
4
Cassie Slide Sandal
CULT GAIA
nordstrom.com
$428.00 $299.90 (30% off)
Your favorite pair of strappy black sandals just got a futuristic upgrade. 
5
Marlow Leather Crossbody Bag
COACH
nordstrom.com
$195.00
$195 $99.90 (49% off)
There's no better time than now to get half off Coach classics. 
6
Queen Crest Boyfriend Tee
DAYDREAMER
nordstrom.com
$69.00 $44.90 (35% off)
Cool enough to wear out and about, but comfy enough to lounge in all day long. It's the ultimate staple. 
7
Set of 2 Polished & Pavé Hoop Earrings
BAUBLEBAR
nordstrom.com
$72.00 $48.90 (32% off)
There's no such thing as owning too many pairs of hoop earrings, especially when they come with this much shine and sparkle. 
8
UltraBoost DNA Running Shoe
ADIDAS
nordstrom.com
$180.00 $119.90 (33% off)
The Meghan Markle-approved running shoe is the perfect blend of streetwear and athleisure. 
9
Natori Feathers Underwire Contour Bra
NATORI
nordstrom.com
$68.00 $44.90 (34% off)
With more than 3,000 glowing reviews, Natori's Feathers Underwire Contour bra is a balance between sexy and comfortable. 
10
Sterling Silver Baguette Band
ARGENTO VIVO STERLING SILVER
nordstrom.com
$98.00 $59.90 (39% off)
Editor's note: I own this ring from Argento Vivo, and after seeing this on-sale option, I might add one more to my collection so I can stack them together. 
11
Rochester Faux Leather Ruched Dress
BB DAKOTA BY STEVE MADDEN
nordstrom.com
$89.00 $54.90 (38% off)
It's everything you love about a little black dress but in faux leather. Also, the drawstring ruching at the sides turns this from a mini dress to-knee-length ensemble in a snap.
12
Berlin Satin Midi Skirt
RAILS
nordstrom.com
$158.00 $99.90 (37% off)
Elevate your midi skirt game with this paisley option from Southern California brand Rails.
13
Satin Camp Button-Up Shirt
OPEN EDIT
nordstrom.com
$49.00 $29.90 (39% off)
A classic button-up you'll find yourself turning to over and over again.  
14
51mm Square Sunglasses
RAY-BAN
nordstrom.com
$161.00 $99.90 (38% off)
The kind of shades you'll wear years from now. 
15
Boss Split Hem Faux Suede Pants
GOOD AMERICAN
nordstrom.com
$185.00
$185.00 $119.90 (35% off)
The perfect day-to-night pant doesn't exi—. 
16
Edbury Leather Shoulder Bag
ALLSAINTS
nordstrom.com
$329.00 $196.90 (40% off)
Geometric shaped handbags aren't going anywhere anytime soon, and this triangular style is too good to pass up. 
17
Retha Side Stripe Sweater
VERONICA BEARD
nordstrom.com
$395.00 $259.90 (34% off)
A mock-neck sweater with a bit of sporty feel thanks to its contrasting stripes on the sides. 
18
Bellissima Round Bracelet Watch
TISSOT
nordstrom.com
$475.00 $314.90 (34% off)
Looking to treat yourself? This water-resistant timepiece from the Swiss brand, Tissot, is a gorgeous place to start.  
19
Zebra Print Long Sleeve Midi Dress
TED BAKER LONDON
nordstrom.com
$175.00 $104.90 (40% off)
Wear this with sneakers now, and then switch it up with a boots and tights combo once it gets a little cooler. 
20
Hayle Platform Chelsea Boot
STEVE MADDEN
nordstrom.com
$119.95 $79.90 (33% off)
Remember how I said to pair that dress with a pair of boots? This style would look stellar styled with that midi. 
21
Le High Waist Flare Jeans
FRAME
nordstrom.com
$228.00
$228.00 $149.90 (34% off)
Celebrity-loved label FRAME is hardly ever on sale, making this '70s inspired pair of jeans a must-have. 
22
CozyChic Ribbed Robe
BAREFOOT DREAMS
nordstrom.com
$118.00 $69.90 (41% off)
I present to you the comfiest robe ever that won't shrink or pill (even after hours of binge-watching Netflix.) 
23
Alta Textured Chain Link Bracelet
MONICA VINADER
nordstrom.com
$135.00 $89.90 (33% off)
A chain bracelet so nice, you won't even think about taking it off. 
24
Quilted Hooded Jacket
BLANKNYC
nordstrom.com
$128.00
$128.00 $69.90 (45% off)
A light enough jacket you can wear right now that can also easily be layered come fall. Talk about the best of both worlds. 
25
Emlen Chain Loafer
LOUISE ET CIE
nordstrom.com
$149.95 $89.90 (40% off)
The best kind of back-to-the-office piece. If light pink isn't your style, this loafer also comes in black and white.  
26
Live In High Waist Pocket Bike Shorts
ZELLA
nordstrom.com
$49.00 $29.90 (39% off)
Biker shorts so comfy you'll find yourself wearing them everywhere.
27
Double Breasted Faux Leather Trench Coat
AVEC LES FILLES
nordstrom.com
$199.00 $129.90 (35% off)
A faux leather trench coat never goes out of style. This design comes with a removable belt so that you can adjust the fit to your liking. 
This content is created and maintained by a third party, and imported onto this page to help users provide their email addresses. You may be able to find more information about this and similar content at piano.io
The 27 Best (and Sexiest) Underwear Styles For Every Occasion
Every situation calls for a different pair of underwear. You'd never wear your workday thong on weekend errands, or your gym hipsters to the office. And while we honestly believe granny panties are sexy, that iconic scene in Bridget Jones' Diary is all too relatable. But after a year stuck in the house dressing up in oversized sweaters and hoodies, it's time to hit the refresh button on your top drawer. We're sure some pairs have overstayed their welcome and you need to get rid of styles you haven't reached for in years. From anti-VPL thongs to leakproof underthings that will save you the embarrassment, these are the absolute best underwear for every need.
Advertisement – Continue Reading Below
Best For Heavy Flow
French Cut
Thinx has every style of panty you can think of to match your flow—yes, that flow.
Best Breathable Underwear
Beyondsoft Panties
Fruit of the Loom
amazon.com
$19.96
Your golden treasure deserves to breathe outside of beauty sleep hours. Fruit of the Loom made it easy for you with these super soft panties that make you feel like you've gone incognito. 
Best for Lounging
Boyleg Brief
Boody
boodywear.com
$40.00
You'll never want to take these briefs off—though you should—thanks to its comfortable, plush bamboo viscose fabric with the right amount of stretch you hug your body.
Best For Menopause
Leakproof High Rise
Live a worry- and leak-free life in your Knix panties. This version was designed specifically for those who don't allow experiencing incontinence to slow them down.
Best Cheeky
Lace Back Cheeky
ThirdLove
thirdlove.com
$28.00
ThirdLove is known more for their great bras, but do not skip their underwear selection. Their top-rated cheeky fits like a dream.
Best Inclusive
Nude Floral Lace & Mesh Thong Dark Cocoa Curvy
Love, Vera
lovevera.com
$15.00
Lova, Vera understands that nude isn't always one-color-fits-all. Best known for their inclusive range of lingerie and undergarments, Love, Vera has panties to match deep complexions who are often left out of the nude conversation.
Mesh Crotchless High Leg Bikini
Savage X offers just about every pair of underwear for every occasion but here's one that does all the talking so you don't have to.
Best for Deep Complexions
Plumetis High-Waist Brief
Nubian Skin
nubianskin.com
$37.50
As the name suggests, Nubian Skin caters to the deeper tones on the complexion spectrum by providing seamless underwear for those barely-there dress moments.
Best for the 70s Obsessed
Gathered Mini Briefs
& Other Stories
stories.com
$19.00
Little House on the Prairies—but make it undergarments.
4-pack Mesh Thong Briefs
H&M's pack deals are is the best bang for your buck.
Everlane
everlane.com
$15.00
If you're searching for a no-frills undergarment, look to Everlane. Their lightweight line has you (and your booty) covered. 
Best Seamless Underwear
Stretch Thong
Commando
net-a-porter.com
$22.00
This underwear is used by legit fashion stylists for photo shoots and red carpets, so you know it's going to be good. It's the next best thing to going Commando, hence the brand's name. Seriously, you might have a midday anxiety attack, because these trick you into thinking you forgot to wear underwear to work. 
Best Organic Cotton
Organic Pima Cotton Bikini
Skin
journelle.com
$90.00
For the most breathable, sustainable option, always reach for 100% cotton, and no one does it better than Skin. Their super soft offerings feel barely there. 
Best Everyday Thong
Signature Lace Low Rise Thong
Hanky Panky
nordstrom.com
$22.00
I know more than a few editors who refuse to wear anything other than Hanky Panky's lace thong. It's the ultimate go-to underwear that doesn't ride up or cinch your waist. 
Best G-String
Naked String Thong
G-strings are known for being unbearable, but I love Kim Kardashian's Skims thongs. They are the ultimate antidote to VPL. The straps stay put, and they don't dig in to your waist. 
Best Mesh Thong
Soire Sheer G-String
Cosabella
cosabella.com
$19.50
This is your secret weapon: it's sexy, comfortable and breathable enough to last all day—and night. 
Best Lightweight Bikini
Mesh Bikini
On Gossamer
nordstrom.com
$20.00
The mesh fabric is so breezy, you feel like you're wearing nothing. 
Best Shaping Thong
Seamlessly Shaped Ultralight Thong
Yummie
shopbop.com
$20.00
If you want a shaper that still feels like actual underwear, try Yummie's popular thongs. 
Best Shaping Underwear
High Power Shaper Underwear
Spanx
nordstrom.com
$38.00
Spanx' ultra-high shaper is great for slinky cami dresses. 
Best Boxer Briefs for Women
Femme Boxer
Richer Poorer
richer-poorer.com
$26.00
For fuller coverage, opt for a boxer made for women. 
Best Boy Brief
Mesh Palm Lace Boybrief Underwear
I've been buying the Boybriefs from Aerie for over a decade, they're that good. 
Best Budget French-Cut
Jockey Women's Plus Size Elance Brief 3-Pack, White/White/White, 8 (2XL)
Jockey
amazon.com
Carrie Bradshaw would approve of these ugly-cute whitie tighties.  
Best French Cut
Whisper high cut brief
Only Hearts
onlyhearts.com
$37.00
When it comes to the thigh-high french cut, no one does it better than Only Hearts.
Best Retro Feel
Black Romance String Panty
Hello Beautiful
hello-beautiful-usa.com
$55.00
The French cut + rosette combo on this sweet pair reminds us of '90s romance. 
Best Running Underwear
Cotton Purestretch Hipster
New Balance
newbalance.com
$19.99
With sweat-wicking power and the inability to bunch, these hipsters are ideal for marathoners.  
Best Workout Thong
Women's UA Pure Stretch Thong Underwear 3-Pack
Under Armour
underarmour.com
$25.00
If you prefer to bench press in thongs, get these. 
Best Crotchless Panties
Goodnight Kiss Crotchless Boyshort
Oh Là Là Chéri
barenecessities.com
$12.00
This content is created and maintained by a third party, and imported onto this page to help users provide their email addresses. You may be able to find more information about this and similar content at piano.io
Advertisement – Continue Reading Below
Everlane's Summer Sale Includes the Best Minimalist Basics
Everlane shoppers know a few truths to be certain. First, the brand's minimalist basics serve luxury-level quality—and they have the product waiting lists to prove it. Second, those Everlane basics rarely go on sale.
But discount rules were made to be broken, even at this cult-favorite brand. Everlane is hosting a massive summer sale where every piece is fair game. The perfect cropped t-shirt? It's in the mix. The oversized blazer? The wear-everywhere jeans? All present and awaiting your "add to cart." If there's a closet staple you're ready to refresh, you'll find it here.
To build your ultimate capsule wardrobe in minutes, shop our favorite picks from the Everlane sale lineup ahead. But remember, Everlane's summer sale runs only as long as there's inventory. Once those closet essentials are gone, they're gone.
1
The Japanese GoWeave Slip Dress
Everlane
$98 $78
During peak summer, this casual slip dress is a standalone essential. Come fall, it's a match made in layering heaven with a long sleeve bodysuit and boots.
2
The Washable Silk Wrap Top
Everlane
$110 $55
You'll get weeks of work outfit mileage out of this washable silk blouse. Don't forget the new bag to match.

3
The Cheeky Bootcut Jean
Everlane
$85 $34
If you want to understand the Everlane hype, head straight to the denim section. This bootcut pair has structure with a hint of stretch, and the wash won't fade.
4
The Italian ReWool Overcoat
Everlane
$298 $119
You don't have to sacrifice style for practicality with this wear-everywhere jacket. Everlane's update to the classic wool coat includes a slightly oversized fit and recycled fabric. 
5
The Stretch Ponte Crop Pant
Everlane
$78 $39
Until the debate over leggings as pants comes to a definitive end, a ponte pant is comfortable middle ground. 
6
The Organic Cotton Cropped Tee
Everlane
$18 $15
The wardrobe limit on boxy cropped tees simply doesn't exist.
7
The V-Neck One-Piece
Everlane
$65 $55
It's not often that you find a bestselling basic swimsuit on sale.  
8
The Luxe Cotton Side-Slit Tee Dress
Everlane
$50 $35 
Between the ultra-soft cotton and the subtle slit, this Everlane staple is a step up from a typical t-shirt dress.
9
The Easy Blazer
Everlane
$128 $102
Two words guaranteed to solve an outfit rut? Oversized. Blazer.
10
The Italian Merino Rib Turtleneck
Everlane
$90 $36
All the comfort of a go-to wool turtleneck, minus the bulk of a heavy sweater.
11
The Curvy Authentic Stretch High-Rise Skinny Jean
Everlane
$68 $47
Tune out any talk of a skinny jean apocalypse. This curve-friendly denim, complete with a waist-gap reducing fit, will last in your wardrobe for years.
12
The Glove Boot ReKnit
Everlane
$115 $69
Footwear trends come and go, but an ankle boot is forever.
13
The Cashmere Crew
Everlane
$100 $70
Tie it over your shoulders, tuck it into a skirt, or incorporate it into your loungewear wardrobe. Whatever your cozy dressing preference, this butter soft cashmere can do it all. Oh, and it comes in 13 shades. 

14
The Denim Chore Jacket
Everlane
$88 $35 
This jacket will be your go-to outer layer by fall. Our favorite feature? Those roomy pockets.
15
The Square Toe Slingback
Everlane
$165 $82
Every capsule wardrobe needs a hero low heel. We're partial to this modern slingback.
This content is created and maintained by a third party, and imported onto this page to help users provide their email addresses. You may be able to find more information about this and similar content at piano.io