Mark Harmon's Sons: Meet The Handsome Kids Of The 'NCIS' Star
With Mark Harmon exiting 'NCIS' after 18 seasons on the show, get to know about the television actor's kids – including his son, Sean, who has followed in his father's footsteps.
NCIS viewers were given a shocking surprise at the end of Monday's episode. Special Agent Leroy Jethro Gibbs, portrayed by Mark Harmon since the character's introduction on JAG in 2003, announced that he wouldn't be returning to law enforcement after traveling to Alaska to solve a case involving a contract killer. "I'm not going back," Gibbs told his partner, Special Agent Timothy McGee (Sean Murray). Gibbs said he found a "sense of peace" in Alaska, one he hasn't felt since the death of his first wife Shannon (Darby Stanchfield) and daughter Kelly (Mary Mouser), per Deadline. When McGee asked what Gibbs hoped to find in Alaska, he said, "I don't know. My gut's telling me I'll know when I find it."
The episode (1904 "Great Wide Open") was Mark Harmon's last as a series regular. He signed a deal to continue with NCIS for its 19th season – on which he will remain an executive producer – but that would be in a limited capacity, per The Hollywood Reporter. This does mean that Agent Gibbs might return in the future. "As an executive producer and dear friend, Mark continues to be an integral part of the fabric of the show," executive producer and showrunner Steven D. Binder said in a statement. "So regarding the future of Gibbs, as long-time fans of the show may have noticed over the years … never count Leroy Jethro Gibbs out."
With Mark now free from his on-camera duties as Agent Gibbs, he now has time to spend with his family. Since 1987, Mark has been married to actress Pam Dawber – best known for her role as Mindy on Mork & Mindy, as well as her extensive film and voice work —  and the two have two sons together. Here's what you need to know.
Sean Harmon
Sean Harmon was born on April 25, 1988, in Burbank, California. Like his father, Sean is an actor. He's appeared in TV series like The Ultimate Evil, Major Crimes, and films like The Fits and Hold On. He has also worked as a stunt double and stunt coordination in a handful of productions, including Dumb and Dumber to, American Reunion, and more.
As of 2021, his best role is – oddly enough – that of playing Young Leroy Gibbs on NCIS. Sean portrayed a younger version of his father's character on seven episodes of the show. "I always think back to the first time they talked about doing a young Gibbs thing here, and Sean was just out of school at that point," Mark told Entertainment Tonight. "A director named Tony Wharmby said, 'Can he come in and read?' And on his own, he did, and I'm proud of him [for] taking his work seriously and how he approaches being an actor — not just on this show, [but] just what he has chosen to try to do in his life's work."
Mark also discussed Pam's reaction to Sean in pursuing a career in acting. "More than anything, she's a mom, and there's a pride there involved in that. Separate from anything as an actor, you hopefully take pride in who people are individually away from any camera just as people, as citizens," he said. "And both our boys have done well and hopefully made smart choices and are doing well daily, you know? Day by day, we have a lot of reasons to be proud of both of them, and this is part of that."
Ty Harmon
Ty Harmon was born on June 25, 1992. While Sean has followed his parents into a career in front of the camera, it appears that Ty's interests – at least with Hollywood – are more behind the scenes. Ty has an IMDB page that lists that he's worked as a screenwriter on a film short, Catholic Schoolgirl Chainsaw Showdown. Ty, like his parents, seems to enjoy a life out of the spotlight because there's not much else known about him. It seems he takes after his mother, in that sense.
"I was in a number one show. I had my own deal. I got to do Broadway. I got to do musical theater. I got to do cartoon voices," Pam Dawber said in a 2016 interview. "I did everything you can do in this business, and then I had children, and it's like, 'I'm not going to chase this fame thing.' "I wanted to drive my kids to school. I wanted to be there for their birthdays and bring cupcakes and donuts and do the school festivals and all that, and I did. I got to teach in their art class, and so it was a different life then, and I was very happy to do it."
"Notice you don't see us in the magazines," she added. "When you're married, that's real life. And to go and plaster your kids… I'm sorry. I'm not for that."
"I'm proud of both our boys, and they work hard at what they do," said Mark during that Entertainment Tonight interview, "and I'm proud that they get up in the morning and try to do that every day."
Nayel Nassar: 5 Things About The Man Who Married Bill Gates' Daughter Jennifer
Congratulations are in order for Jennifer Gates and her new husband, Egyptian equestrian, Nayel Nassar. Here's everything to know about him!
Jennifer Gates is officially off the market! The eldest daughter of billionaire couple Bill and Melinda Gates said her 'I do's with new husband Nayel Nassar, a professional equestrian, on October 16. The two wed at the Gates family's sprawling estate in Westchester County, New York in front of 300 people. It comes four years after the pair were first linked, having both attended Stanford University, and sharing a passion for horses and equestrian. Read on for everything to know about Nayel.
1. He has officially tied the knot with Jennifer.
Nayel and Jennifer are now man and wife! The couple exchanged vows at her farm, which was gifted to her by her parents after she graduated from college. Talk about an extravagant gift! The venue, which features 124 acres of land, was set up with pavilions with floor-to-ceiling glass windows. Jennifer stunned in a custom Vera Wang dress, as she was flanked by her bridesmaids who wore teal gowns, and both of her parents walked her down the aisle. It was reported that 300 guests attended the Muslim ceremony per the Daily Mail, and Coldplay served as the entertainment.
2. Nayel competed in the Tokyo Olympics
Nayel, whose parents are Egyptian, has been competing in equestrian competitions for several years. According to his biography, he began at the age of 10, and has gone on to qualify for the FEI World Cup Finals in 2013, 2014 and 2017, along with the FEI World Equestrian Games in 2014.
Most recently, he competed in the Tokyo Olympics, marking the first time in 61 years that Egypt's equestrian team had qualified for the Olympics. His mother-in-law Melinda took to Instagram, writing, "I always love watching the Olympics. The #TokyoOlympics are particularly special because I get to cheer on my future son-in-law, @nayelnassar! We are so proud of you, Nayel (and Igor)!" Meanwhile, Bill added, "I'm rooting for lots of the athletes in Tokyo right now—but none more than my soon-to-be son-in-law, @nayelnassar. Good luck, Nayel!"
3. He also has affluent parents.
Nayel had a similar upbringing to his now-wife. He was born in Chicago to millionaire parents but was raised in Kuwait. Back in 2017, he returned to the country with Jennifer for a visit ahead of the holidays. "Memorable times in Kuwait last week with family and old friends. Got to bring Jenn home and give her a glimpse of my childhood," he wrote on Instagram. "It meant the world to me. Needless to say, she was loved by all..including Jerry."
4. He graduated from Stanford University.
Both Nayel and Jennifer graduated from Stanford University in Northern California. He earned a degree in economics in 2013, while his wife graduated in 2018 with a degree in human biology. "Lucky me, she's beautiful and has a Stanford degree! ?? Congratulations love, on all you've achieved these last 4 years. Can't wait to continue this wonderful journey with you #stanfordgrad2018 #beenthere #classof2013 #imgettingold," he wrote.
5. He speaks multiple languages. 
If his list of accomplishment wasn't already impressive enough, he also speaks Arabic, French, and English.
Garcelle Beauvais Teases Andy Cohen Asked Erika Jayne 'A Lot Of Hard Questions' During Dramatic 'RHOBH' Reunion
Garcelle Beauvais says she was 'proud' of how host Andy Cohen handled Erika Jayne's Q&A portion of the 'RHOBH' reunion in this EXCLUSIVE interview!
Garcelle Beauvais, 54, was blown away by how her boss and host of The Real Housewives of Beverly Hills season 11 reunion, Andy Cohen, 53,  handled questioning Erika Jayne, 50. The blonde bombshell has been at the center of the drama with her legal troubles this season amid her divorce. "Andy really did his job," Garcelle told HollywoodLife EXCLUSIVELY on Oct. 11 at Travel & Give's 'Travel with a Purpose' fundraiser at TomTom in West Hollywood. "I think he asked the questions that people want to know the answers to. I was really proud of him."
The "XXPEN$IVE" singer has been dealing with a ton of real life legal drama with cameras rolling after filing for divorce from husband Tom Girardi, 82, when a cheating scandal and tons of lawsuits came to light. Tom and his law firm allegedly embezzled funds from plane crash victims — something Erika has sworn up and down she did not know about (notably, she is named in the lawsuits).
The ladies have grilled her all season on the show about her knowledge on the situation and how she's holding up. Because of the real life woes happening, Garcelle promises fans that the record four part reunion is not short of any juice. "I can tease there's a lot of drama," Garcelle revealed. "A lot of emotions, a lot of hard questions, honestly."
During part one which aired on Oct. 13, fans witnessed Garcelle and former bestie Lisa Rinna, 58, get heated with one another after having their issues all season. At the end of the episode, Garcelle comes over to Rinna's couch and the ladies hug and agree to start fresh. "I am open," Garcelle said of her future with Rinna. "Clean slate. Let's start the new season."
Rumors are swirling that season 12 will begin filming this month to capture Erika's ongoing legal issues. Articles have also surfaced with Garcelle's status should that be true, and she is setting the record straight about her return should she get the call to begin filming. "Not yet," Garcelle said of officially signing back on. "Yeah, I'm open, for sure. Open for sure."
Part two of The Real Housewives of Beverly Hills reunion airs Wednesday at 8pm on Bravo.
'You' EP: [Spoiler]'s Grim Fate Was 'Always The Plan' & Teases Joe's Mom 'Could' Be Alive
'You' season 3 ended with yet another jaw-dropping twist. HL spoke EXCLUSIVELY with EP Sera Gamble about those finale shockers, season 4, and Joe's mother. Spoilers ahead!
Joe and Love's relationship came to a tragic end at the end of You season 3. After finding out about Joe's obsession with Marienne, Love tried to "save" her marriage and started off by poisoning Joe with aconite. Joe, knowing Love better than she knows herself, had a plan B. After Love told Marienne the truth about Joe, which sent Marienne running, Joe killed Love with a fatal dose of aconite.
Joe faked his death — even cut off two of his toes to make sure no one questioned it — and burned down the home that he and Love shared. Both Joe and Love committed unspeakable acts in season 3, but he blamed everything on Love in a suicide note and said she had killed him. Joe left Madre Linda behind and went to Paris, still hoping he'll be reunited with Marienne someday. HollywoodLife spoke EXCLUSIVELY with You executive producer Sera Gamble about the season 3 finale twists and what they could mean for season 4.
At the end of season 3, Love is killed. Was there ever a discussion about keeping her alive? Was that always sort of the end goal for her?
Sera Gamble: This 2-season arc was always the plan, but I'm not going to lie when you're working with an actor like Victoria Pedretti, of course, you have that conversation. We're not idiots. She's amazing. I feel like sometimes writers would watch cut and then sort of wistfully pitch a whole new direction just because it's so fun to write for her. But that was always the plan.
Joe ends up in Paris at the end of season 3, and he's still looking for Marienne. In Caroline Kepnes' book, he ends up in the Pacific Northwest. Why the move to Paris? 
Sera Gamble: Caroline was still writing the book while we were making this past season, and she and I talked quite a lot. We knew that she had a different direction for Love and for the baby. I said, 'Well, here's an idea that, frankly, Greg [Berlanti] pitched to me.' He's the one who usually texts me at 7 in the morning, 'I had an amazing thought at 3 am.' And then it's like the season. That's what Greg does. Basically, she embraced the idea that at this point the books and the show exist in two parallel timelines. They're like cousins and not twins anymore. But I'm looking for ways to dovetail back with different aspects of what she's writing.
Will a potential fourth season be set in Paris? [This interview was conducted before the show was renewed.]
Sera Gamble: I just don't know yet. I can tell you that if we got to do a season 4, it would be super fun to step outside the U.S. It's a huge mandate to always put Joe in a situation where he feels very different from the people he's around so that he can judge the hell out of them in his mind, and we can eavesdrop on that. So it would be really fun.
Marienne figures prominently in the latter half of season 3. Would you want to circle back with her? When Love told her to run, she listened.
Sera Gamble: I think that is the probably biggest open question that we leave you with at the end of the season. I mean, when I watch it, I think it's pretty clear that she gets the message from Love that maybe she was mistaken about this gentleman, but Joe's not done thinking about her. So there's always the chance, right?
I spoke with Tati about that scene and whether or not she believed what Love said and if changed after Love's "suicide note." I'd love to know what was going on in Marienne's head if she learns about all this.
Sera Gamble: Watching that scene as it was shot was one of my favorite things this season. Tati and Victoria play so beautifully together. It went through a lot of iterations. We rewrote that scene a lot. They both had really good questions about it and because so much is happening and so much is pivoting, I definitely know that Tati and I had some conversations about what she and I believed the character would be thinking at that point. But one of the beautiful things about the collaboration of TV is she was thinking what she was thinking, and then it's going to read the way it's going to read when you watch it. I think people will watch that scene and come away with different opinions. I think it might be a bit of a debate.
Was there ever a discussion about killing her off?
Sera Gamble: We definitely cycled through that question with every single character. Like, the barista in the random cafe in Paris… is Joe going kill him? Maybe. But I think we were always pretty clear that it wasn't about that. It would be more interesting to hand her the truth at the end of the season. Among other reasons because what an intense, powerful punch from Love. This season only works if they're an amazing team at the beginning and amazing adversaries by the end, so we want to Love to strike some death blows.
It's almost like Love gets the last word, even if she ended up dead. 
Sera Gamble: Yeah, and I think this might sound like I'm defending her, and maybe I am in a little sort of way, she makes a lot of moves there at the end that are very protective of Marienne, Marienne's daughter, and of her baby. So it's not as simple as just they're swiping at each other with kitchen knives.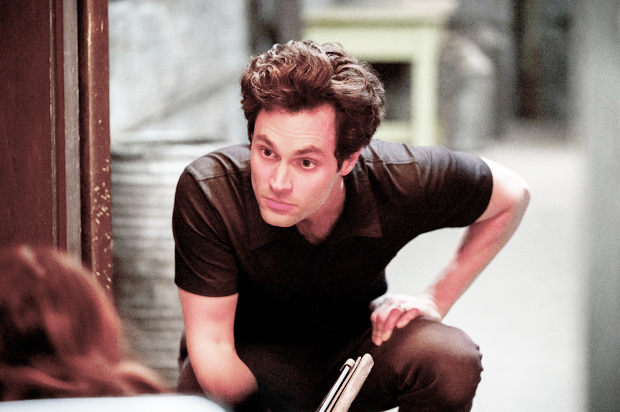 "Exile" was an amazing use of a Taylor Swift song in that finale montage. Is she a fan of the show?
Sera Gamble: I have no idea if she's ever watched anything I have anything to do with. I'll just say I'm a fan. We did a Taylor Swift musical number in The Magicians, which is another show I worked on, and the idea of that particular song is we're always playing with the tropes of the romantic comedy or the sad romance. It creates a nice tension when you're watching people do things like burn a body, so it's just such a romantic song. It's so sincere in what it's saying. So that felt like the right tone for the tragic end of the beautiful relationship of Joe and Love.
At the end of season 2, many fans were wondering if Joe's mother was going to be back in the picture. Some thought she was going to be the woman next door. Could Joe's mom still be alive?
Sera Gamble: Yeah, she could.
Is that maybe something you want to explore down the road?
Sera Gamble: I mean, it's certainly fair game. I'll say that.