Jane Fonda Looks Back On Her Best Beauty Moments From Over The Years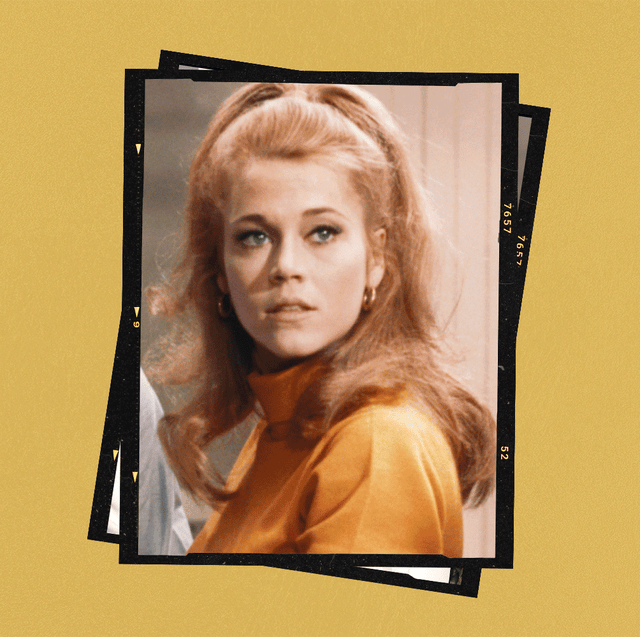 Courtesy
Jane Fonda doesn't feel like she's ever had "a look." And if you're a fan of the actress/activist/exercise icon (ahem, me), you probably agree with her. Every "look" that Fonda has donned— whether it's the flipped out curls of
Golden Pond
or the mullet that will forever be emblazoned in our hearts, minds, and the United States legal system when it was captured in her 1970-year mugshot (for carrying vitamins)— has been an all caps L-O-O-K.
Her more than sixty-year career is bursting with beauty, fashion, and life inspiration— Fonda has inspired generations of women to use their voices to stand up and fight for their beliefs. The pandemic didn't slow Fonda down. This year, she's been hosting virtual Fire Drill Fridays, accepted the Golden Globe Cecil B. DeMille Award, and become an ambassador for CBD and hemp brand Uncle Bud's. "Don't knock CBD until you try it," Fonda says to anybody out there who may be a skeptic. "I like to use the Hemp Roll-On after a long, hard, stressful day or a grueling workout routine." (Sounds perfect post-Jane Fonda Workout, original pressings can still be found on Etsy. Shop it and the rest of the site at 30% off with the code 'JANE30')
Below, Fonda breaks down some of her most iconic looks in a way only Jane Fonda can.
Advertisement – Continue Reading Below
Barefoot in the Park, 1967
"This was all my natural hair, and I wasn't coloring it back then. I don't know what color to call it—though now I'm all gray. The honey blonde was so subtle and unique. My brilliant colorist at the time, Negin Zand, is the only one who could do it."
Academy Awards, 1972
"I had my husband's barber, Paul McGregor, cut my hair because I didn't want to have to deal with the blonde Barbarella mane as an activist. I kept the look for Klute. I didn't realize this haircut was going to be so iconic—I just thought, 'I can handle this on the front lines.'"
Academy Awards, 1979
"I've always liked a strong, black eyeliner that's softly blended with a line on the inside of my lower lid. I may wear no other makeup other than eyeliner and light concealer under my eyes. I've learned from experience that it's best not to get complicated with the hair when it comes to red carpet dressing. Do a smokey eye for sure, wear comfortable shoes, and if possible a comfortable dress (hey, I can dream, can't I?)."
The Jane Fonda Workout Book, 1982
"The first workout video we did had such a small budget. We did everything ourselves. It was very rag-tag. But in later videos, we had a hair and makeup team who would come in with lambskin soaked in ice water to put on our necks to cool us off, pat us down, and repair the damage while we were filming."
Fire Drill Friday, 2019
"I always wore full makeup to Fire Drill Fridays. I would laugh at myself for wanting to look good in detention, but there was always a lot of press!
Your lip definition goes out the window when you're my age, so the one product I won't leave the house without is lipstick and lip liner. But drawing a lip line is like driving down a washboard dirt road. Bumpity bump. All those wrinkles! I never use glossy lipstick anymore. I keep it matte. Shine isn't good on older skin."
Golden Globes Red Carpet, 2021
"My approach to beauty during shelter-in-place didn't change because I was doing virtual Fire Drill Fridays every week and tons of virtual events—so I was still made up a lot. So this look is nothing special for me, just what I wear for interviews. It was done by my glam team that I work with in life and for television and film: David De Leon does my makeup, and Jonathan Hanousek does my hair."
This content is created and maintained by a third party, and imported onto this page to help users provide their email addresses. You may be able to find more information about this and similar content at piano.io
Advertisement – Continue Reading Below
Princess Beatrice and Husband Edoardo Mapelli Mozzi Welcome a Baby Girl
Princess Beatrice is officially a mom. The royal and her husband Edoardo Mapelli Mozzi welcomed their first child, a daughter, over the weekend, Buckingham Palace confirms.
In a statement, the palace write that the couple—who married in July 2020—"are delighted to announce the safe arrival of their daughter" on September 18 at 11:42 P.M. at the Chelsea and Westminster Hospital. Both mother and child, who weighed in at a healthy six pounds and two ounces, "are doing well."
This content is imported from Twitter. You may be able to find the same content in another format, or you may be able to find more information, at their web site.
Adds a spokesperson, "The new baby's grandparents and great-grandparents have all been informed and are delighted with the news. The family would like to thank all the staff at the hospital for their wonderful care."
No name has been announced yet, but a Palace statement says that the couple are "looking forward to introducing their daughter to her big brother Christopher Woolf," who is Edoardo's son from a previous relationship.
Parents Sarah Ferguson and Prince Andrew are said to have both left Balmoral in Scotland when their daughter was admitted in hospital on Friday. The Duke of York had been accused of "hiding" on the Queen's holiday Scottish estate as lawyers tried to serve Virginia Giuffre's sex abuse lawsuit on him.
Princess Beatrice had enjoyed a relatively low-key pregnancy, continuing her work right up until her September due date. Most recently she stepped out for a visit to England's Forget Me Not Children's Hospice to meet families, staff and volunteers as she highlighted their work.
This content is imported from Twitter. You may be able to find the same content in another format, or you may be able to find more information, at their web site.
"In the last 10 years, the charity has supported over 800 families—I am simply lost for words as to the difference that this support has made to so many lives," Beatrice said in a statement. "When people ask me why I became the patron of this amazing charity, I only have to explain how much of an important part of the community Russell House and the charity has become. And how much of a momentous achievement it is for us to be stood here today celebrating 10 years of supporting that community."
Earlier this month, she also joined Richard Branson's children Holly and Sam at an event for an organization that finds and backs pioneers who lead early-stage projects that support young people. As a trustee of the Big Change charity, she remains active in a number of their activities and initiatives.
This content is created and maintained by a third party, and imported onto this page to help users provide their email addresses. You may be able to find more information about this and similar content at piano.io
The 15 Best Nail Polish Removers You Need For A Fresh Mani
Jennifer GraylockGetty Images
Full disclosure: I'm a polish chipper. I'll slowly peel off gel polish, leaving delicate, ruined nail beds underneath. I forcibly evict press-ons after an hour, glue be damned. Nail polish remover? No thanks, I'd rather completely ruin my hands and then complain about how my nails always break and never grow long. So I get it. If the thought of maturely soaking a cotton round in acetone offends you, just know it offends me too. But we're adults now. It's time to stop leaving little piles of nail polish on whichever surface happens to be in our vicinity. I'm tired of paying someone to remove my gel nails when I paid to get them put on in the first place.
So welcome to polish chipper recovery. Here, we invest in nail polish removers. For the gel manis, we bring you liquids strong enough to break down those bonds. For a light coat of polish, we bring you the classics in the family. For the acetone-wary, we bring gentle alternatives. I will offer you every possible option so that together we can stop anxiously chipping off polish. Below, find the 15 best nail polish removers that are so satisfying, you won't even miss that delightful first peel of an at-home gel manicure removal.
1
Soy Nail Polish Remover
For a classic run-of-the-mill mani, you don't need to reach for strong chemicals. This soy-based, essential oil-infused nail polish remover is actually good for your nail beds, but will still remove any trace of lacquer.
2
Ultra-Powerful Nail Polish Remover
This stuff is powerful. It can remove even annoying glitter and super dark polish, so you can get clean nails without scrubbing at your hands for an hour. Used correctly, it can even remove gel polish.
3
Acetone Free Nail Polish Remover
For those who don't want to accumulate a pile cotton balls, you can actually dip your finger into this nail polish remover-soaked sponge, twist around, and then suddenly have polish-free hands.
4
Remove+ 3 in 1 Formula
If you can't go a few days without having polish, then this nail polish remover was made for you. Not only does it remove color quickly and easily, but it also conditions and preps your nails for their next journey.
5
Gel Polish Remover Pads
This little box comes with 100 (!!!) individually wrapped nail polish removing pads for life on the go. Say goodbye to accidentally spilling an entire bottle of acetone all over your clothes in your luggage.
6
Rose Polish Remover
You know that sickly, chemical smell that you just accepted came with manicures? Well, this polish actually manages to smell good, with a combination of clean ingredients and soothing rosehip.
7
Kwik Off Nail Color Remover
This gentle nail polish comes in sponge form, so you don't need a bunch of different equipment to achieve clean nails. Just dip a finger in, let it sit for a moment, then remove your now blank hands.
8
Kur Strengthening Lacquer Remover
For nails that need some TLC, this acetone-free polish remover contains plenty of antioxidants for healthy, strong nails. 
9
Non-Toxic Soy Nail Polish Remover
This remover skipped the chemicals and instead uses natural oils to gently remove lacquer. It also smells like yummy grapefruit, which is a nice change from the headache-inducing scent most nail polish removers have.
10
100% Pure Acetone
This stuff is the real deal. If you gravitate toward harder to remove polishes, like gel, or glitter, dark tones, or false nails, this stuff will get it off. Since it's pure acetone, it's not for the faint of heart. But damn, it works well.
11
Nail Polish Remover
With soybean and lavender essential oils, this plastic-free nail polish remover is gentle for both the planet and your hands.
12
Nail Polish Corrector Remover Pen
If you just need a quick touch-up, these remover pens will let you fix any mistakes without having to completely start your manicure over again. 
13
Non-Toxic Nail Polish Remover
This one-ingredient nail polish remover contains no chemicals, has barely any scent, and was made with sustainable and environmentally conscious practices in mind. If you're looking for a new way to remove your polish without harming your hands or the world, this is a must-have.
14
Strawberry Nail Polish Remover
This no-muss no-fuss nail polish remover does everything you want it to: It removes all traces of lacquer at a bargain without stinking up your entire apartment.
15
Acetone Nail Polish Remover Pads
For a quick polish removal, these pre-packaged nail polish remover wipes are easy to travel with.
This content is created and maintained by a third party, and imported onto this page to help users provide their email addresses. You may be able to find more information about this and similar content at piano.io
New York Fashion Week Predicts Next Year's It Bags
Dominik BindlGetty Images
When designers weren't presenting the next chic It bag of the season, they got a little weird. This is not an understatement. At Thom Browne, the brand's signature dachshund-shaped top-handle bags were dressed up as Greek gods. Moschino's Rugrats-themed runway featured a clutch in the shape of a baby bottle. LUAR's holographic mini bag might blind you. And in Coach's ode to New York City, a leather tote honored one of the best bagel shops in Manhattan. Don't worry if you favor handbags on the subtler side, because Altuzarra and Khaite's refined designs are sure to make next year's wish list.
No matter your preference, get carried away with our favorite bag styles spotted at NYFW ahead.
Advertisement – Continue Reading Below
This content is created and maintained by a third party, and imported onto this page to help users provide their email addresses. You may be able to find more information about this and similar content at piano.io