'Bridgerton' Star Phoebe Dynevor Wants To Play Matchmaker In Season 2
Phoebe Dynevor was—almost-but-not-quite literally—born to wear a tiara. The daughter of British soap star Sally Dynevor, whose stint on the long-running Coronation Street made her a period-piece fan-favorite, Dynevor was born with the high cheekbones and posh inflections that made her an obvious choice for Shonda Rhimes's Regency drama Bridgerton. The choice was so obvious, in fact, that once her audition tape made the rounds, she was suddenly, after months of no contact, called into the Shondaland office in Los Angeles to meet with showrunner Chris Van Dusen and producer Betsy Beers. The chat clearly went well: Days later, Dynevor was on a plane from L.A. to London to begin six weeks of prep in the arms of Regé-Jean Page, who plays her character's love interest Simon Basset.
But what excited Dynevor more than a spontaneous trip back to her home country was the prospect of working with Rhimes herself. "I was such a fan of Scandal and Grey's Anatomy, and all of her characters are always super dimensional and interesting, particularly the female roles," she says. "I knew that this was going to be a different sort of period drama in the way that the women were going to have real agency. They were going to actually be interesting and dynamic characters."
As Bridgerton continues to dominate the Netflix charts, ELLE.com grabbed a few minutes with Dynevor to discuss the challenges of filming a period piece, her intimate scenes with Page, and what she hopes to see in Season 2.
What's so dynamic about this show is how it reinvents the Regency era, modernizing it without de-historicizing it: the feminist attitudes, even the modern pop songs played by string instruments. With that in mind, how did you research and prepare for your role as Daphne?
I think the context of the era was still really important for Daphne's character arc, so I wanted to get all of that right. The etiquette stuff—we had an amazing choreographer who did all the dances with us and taught us how to properly curtsy and bow and build good posture.
And we all read a lot of articles. At one point we had a group chat just for the girls where we'd share articles and books that told us what it was like to be a woman in that time. That was really important for all the women's stories, actually, to understand how empowered they were even within the context at that time. Women were very oppressed. All these little things: how difficult it was to give birth for women, the fear behind that, how important it was for them to find a man.
So, for instance, I learned how to ride sidesaddle, which was interesting, but there's a scene where Daphne has to jump on a horse and quite quickly get somewhere, and I really pushed for her to be riding astride as opposed to sidesaddle. I thought that wouldn't be like her—when something quite desperate was happening, she wouldn't be sidesaddle.
Daphne is presented, at first, as the stereotypically chaste, innocent young girl, the perfect "diamond." But she quickly realizes just how little she knows about the world and her own body. She has this awakening both internally and externally. How did you think about filming that coming-of-age in a way that was respectful of its complexity, but still very fun?
I wanted to get to the center of who this person was. And with her sexuality, exploring that aspect of someone who hasn't ever been told about what sex is, about what marriage actually entails, and having to figure that out on your own without help—that's sort of weird for us to think about now, in a time of literally being able to Google anything. But to be so kept away from all that and having to discover that on your own? It must be such an isolating, strange thing to go through.
What was it like filming those intimate scenes, having to learn through Daphne's eyes?
I think what's interesting about her story and her arc is that, because it's a television show, it's her journey condensed to eight episodes. But my period of going from a young woman to a semi-adult was a lot longer than that. Years and years of finding yourself and figuring out who you are as a person. We have the time now to actually find ourselves before we settle down and marry and have kids. But for someone like Daphne, her only way of finding herself and figuring out who she is is through getting married. It's sort of a condensed way of evolving, I think. And she does a lot of growing up within very little time, which is quite interesting to play with.
A huge part of your chemistry with Regé is your body language, the way you dance around each other both literally and figuratively. What practice went into that?
Both Regé and I were quite nervous about it because I certainly haven't really danced before. But it was also great discovering that chemistry, and I think we figured out a lot of their relationship in our rehearsals. There's something about the waltz in particular, where one person leads and the other follows, that helps you get in tune with each other.
We rehearsed only with modern music, so we weren't sure what music they were going to put over the themes in the show. That was really fun because it brought us to the present day and made it feel more relatable. And we were singing our favorite songs and got to dance to our favorite songs. We rehearsed to Plan B, to a Stormzy track, Rihanna, and "Havana" by Camilla Cabello.
What was it like when you first met Regé? How did you two develop such a real intimacy?
The six weeks prep really helped in that. We spent so much time together; we were also staying at the same hotel, which was quite funny to see each other for breakfast. We had a lot of rehearsals, and then we rehearsed together on our own. By the time we got to set, we knew each other really well, we had spent a ton of time together, so we weren't getting to know each other as filming went on. And then we had an amazing intimacy coordinator, who we blocked out all the intimate scenes with. They were very intricately rehearsed. And I think that made us both feel really comfortable.
What are you most looking forward to finding out in season 2?
If the seasons are sticking to the books, then it's Anthony's turn to find love, so we're passing on the baton, in that respect. I want to see Daphne get involved in Anthony's love life a bit, as he sort of meddled with hers quite a lot. I think that will be fun.
This content is created and maintained by a third party, and imported onto this page to help users provide their email addresses. You may be able to find more information about this and similar content at piano.io
12 Drugstore Concealers That Will Leave You Looking Alive
The beauty industry convinced you that the best concealers come with a hefty price tag—and they couldn't be more wrong. While high-end concealers are great, the best concealers can be found one aisle over from your vitamins and laundry detergent. Drugstore concealers hit all its claims: Camouflage pimples? Check. Hide dark circles? Double-check. They work so well your friends will ask if you've just stopped reading the news altogether. So while we can't fix everything in this world, we can offer the best concealers you can pick up in the drugstore beauty aisle, ahead.
1
16HR Camo Concealer
The creme de la creme of drugstore brands, E.L.F Cosmetics' Camo Concealer has a creamy formula and perfectly designed applicator, plus two different finishes—hydrating and matte—that puts your favorite high-end one to shame. 
2
Healthy Skin Brightening Eye Perfector, SPF 25
Vitamin E, antioxidants, chamomile, and soy work to brighten and depuff those pesky bags under your eyes, while the flow-through brush applies the perfect amount of product for flawless coverage. 
3
Mega Last Incognito AllDay Full Coverage Concealer
The sorcery this concealer does makes it hard to believe it's only $4. This drugstore staple is full-coverage, so it can be used without foundation to conceal impurities and blends seamlessly with your other makeup players. 
4
True Color Flawless Perfecting Concealer Toast
Built like lipstick, the Black Opal concealer has a pointed tip that fits perfectly around the corners of your eye to cover all bases.
5
HD Pro Concealer
Everyone has had a LA Girl concealer at one point in their life because it's just that good. A little goes a long way with this concealer. Plus, it has an expansive shade range so you'll be able to highlight, concealer, and contour with multiple shades.
6
Conceal + Perfect Longwear Concealer
To be a regular full-coverage concealer is one thing. But Milani conceals while nourishing the skin with hyaluronic acid, shea butter, olive fruit oil and more. 
7
Infallible Full Wear Waterproof Concealer
If you're a fan of the foundation, the concealer will be your new favorite. The applicator is large enough to help you sculpt all over your face. You don't have to worry about it separating because it's also water-resistant and transfer-resistant.
8
PhotoReady Candid Antioxidant Concealer
A concealer with anti-blue light ingredients? Revlon spoke to the social media influencer in all of us. No need to worry about dark circles or puffiness, this concealer erases it all. 
9
Fit Me Concealer
This concealer hides blemishes but allows for the real you to shine through with it's light-but-effective coverage. Reviewers suggest using a darker shade as contour and a lighter shade as a highlighter because the formula works so well together.
10
Hi Definition Photo Concealer Wand
Photoshop in a tube. The full coverage formula can cover the worst of breakouts and rivals Nars' cult-favorite concealer, but at a fraction of the price. It goes on smooth without caking under your eyes, which is a major indicator of a great concealer. 
11
Instant Age Rewind Eraser Dark Circle Treatment Concealer
Dark circles disappear with this concealer thanks to Gogi berry that brightens the under eye area and leaves your face illuminated for up to twelve hours. Tip: Spend the other twelve hours in the day sleeping to get rid of those dark circles for good.
12
ColorStay Concealer
The salicylic acid in Revlon's ColorStay concealer is a pimple's worst enemy as it eliminates blemishes in no time. Treatment plus coverage equals happy skin. Cover up now then say goodbye to your zit for good.
This content is created and maintained by a third party, and imported onto this page to help users provide their email addresses. You may be able to find more information about this and similar content at piano.io
The Five Best Nail Polish Advent Calendars of 2021
If this year has taught us anything, it's the true importance of little luxuries like a pop of color on your nails or the excitement of opening a small present each day. So why not combine the two joys? Introducing nail polish advent calendars: a reminder to slow down and make time for yourself, especially as the holiday season rolls around—you'll be so glad you did when you catch an uplifting glimpse of your mani.
Whether you're in the market to pamper yourself or brighten up a loved one's lacquer collection, here are the best nail polish advent calendars of the 2021 holiday season.
Advertisement – Continue Reading Below
1
Ciaté Mini Mani Month® 2021 Vegan Nail Polish Advent Calendar
We'll never say no to cute minis, especially when they're entirely recyclable. This holiday season, Ciaté is bringing you 22  mini colors to create the manis and pedis of your dreams alongside one full size polish and a hydrating lip oil.
2
OPI 40th Anniversary Advent Calendar
OPI
Available October 1st
This year, OPI turned 40! Join them in celebrating all year long with these 25 adorable mini lacquers from their Celebration Collection and some classic favorites from along the way.
3
Olive & June Hanukkah Calendar
Wishing you love, light, and all the manis! Celebrate 8 nights of Hanukkah magic with mini polishes in sophisticated colors, all the tools you'll need to perfect your nails, and absolutely adorable nail stickers.
4
Olive & June Christmas Calendar
Can't make it to Olive & June's elevated nail salon in sunny LA? With 9 mini polishes, essential mani tools like cuticle serum, and the cutest mini stickers, let them bring their magic to you this holiday season.
5
Essie Advent Calendar
Essie
Coming soon…
In the past, Essie's advent calendars have been stocked with full sized lacquers, mini polishes, and surprise treats like cuticle oil, nail stickers, or polish remover.  Be sure to check back to see what the brand comes up with for 2021—it's sure to be good.
This content is created and maintained by a third party, and imported onto this page to help users provide their email addresses. You may be able to find more information about this and similar content at piano.io
Advertisement – Continue Reading Below
16 LED Masks That Make You Look Like Hannibal Lecter With The Skin of Jodie Foster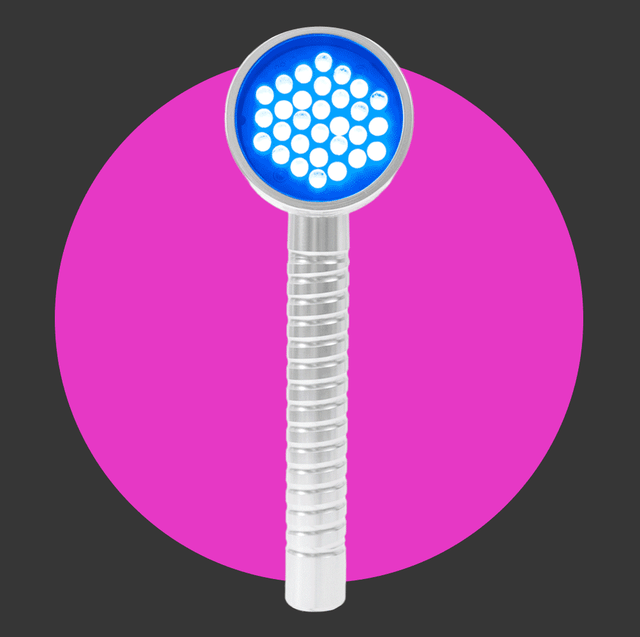 Courtesy
A futuristic-looking face mask that's supposed to kill bacteria, prevent breakouts, and reduce the appearance of aging skin? It seems too good to be true, but LED masks are essential to transforming the skin in ways topical products cannot. You've probably seen your favorite celebrities don this type of tool before a big night of red carpets, but what do they actually do? And do you actually need one? To get all the ins and outs before splurging, we turned to Dr. Ife J Rodney, for all the information.
What Are LED Face Masks?
"LED masks work by shining different colors and wavelengths of light rays onto the skin. The blue LED rays target the bacteria that live within the hair follicles and contribute to acne pimples and cysts," Dr. Rodney, MD, FAAD, founding director of Eternal Dermatology + Aesthetic. "The red rays suppress redness and inflammation of the skin and reduce the appearance of fine lines and wrinkles, by stimulating collagen production." Now, you can get masks that come with a wide range of lights, including green, white, and amber for even more specific needs.
Do LED Face Masks Work?
While they're mainly used as an add-on treatment when you visit your dermatologist or esthetician, the at-home versions can help to keep your skin in tip-top shape—as long as your consistent. Where in-office treatments use more powerful LED bulbs for an extended amount of time (no more than 20 to 30, Dr. Rodney says), "at-home LED masks are not monitored, so there may be a lack of consistency in the treatments." When used consistently, however, you'll find that the right tool can give amazing results–without the in-office costs.
Ahead, the 16 best LED masks to try, from Dr. Rodney's splurge-worthy fave to handheld light therapy devices that target your most stubborn impurities.
Advertisement – Continue Reading Below
1
IG-Worthy
MZ SKIN Light-Therapy Golden Facial Treatment Device
Oh, didn't you hear? Devouring a plate of carbohydrates while masking is the thing right now. Here's a fancier version that not only looks luxurious but transforms the skin using five different lights to reverse signs of aging and reduces the appearance of hyperpigmentation. 
2
The 4-In-1
Red Light Wand
This nifty gadget combines four powerful skin-loving benefits into one sleek tool. It has red light therapy to rejuvenate skin, micro-currents to lift, facial massage, and therapeutic warmth to allow skincare to absorb into the skin better. Plus, it's small enough to take on the go.
3
The Celeb-Approved
The A-List Collection
Beloved by celebrities getting ready for the red carpet, this face and chest mask will improve the skin's texture and tone. Over time with continual use, fine lines and wrinkles can be kept at bay with this mask's powerful red light therapy.
4
The Botox Alternative
Contour Face
No need to make an appointment with your friendly derm, this LED face mask will do everything you need it to with no down time. Not only does it work against time, minimizing fine lines and wrinkles, but it also reduces redness and hyperpigmentation.
5
For Every Need
How To Glow LED Light Therapy Mask
This mask allows you to get four different light therapies in one easy-t0-use tool. You can use the red, blue, amber, and green setting to treat everything from acne to sun damage, and more.  
6
The Fan Favorite
SpectraLite™ Faceware Pro
Dr. Dennis Gross Skincare
While most masks used red and blue lights separately, this masks uses 100 LED red lights and 62 LED blue lights at the same time to target all your skin concerns. I also love DRx SpectraLite FaceWare Pro. Plus, it's FDA-cleared and finishes the treatment in three minutes, which makes it a must-have in Dr. Rodney's book.
7
The Custom Fit
Rejuvalight Pro Facewear
If you're unsure of what your skin needs, Qure offers a skin consultation so you can get the right treatment out of your LED face mask. That way, you can mask in total confidence. 
8
The Wireless Choice
WrinkLit LED Mask
This mask offers red, orange, and blue LED light therapy to conquer your skin's woes. It's completely wireless, which means you can use it on the go, or at home when you want to complete your chores without worrying about the closest outlet.
9
The At-Home Treatment
LED Light Therapy Shield
With this mask, you can use blue light therapy, amber light therapy, and red light therapy in one easy tool. This can do everything from calming down inflamed skin, treating fine lines, and healing damaged skin–for just 10 minutes a day.
10
The Whole Spectrum
LUMA Light LED Therapy Facial Mask
This mask offers seven different light therapies that can all help you get to the skin of your dreams. It even offers white light therapy that can treat sagging skin and fine lines.
11
The Warrior's Helmet
Near-Infrared LED Mask
You might look like a Spartan with this on, but they probably didn't have skin this good. With fine-line reducing red light therapy, you'll start to notice a difference in just two weeks of using this product.
12
For Active Breakouts
LightStim for Acne
So it's that time of the month, and a cluster of breakouts appeared on your face. The LightStim handheld LED treatment can directly target your problem areas. "This handheld device is FDA cleared, comes with its own eye protection, and can be used to treat specific problem areas, like your cheeks or forehead," Dr. Rodney says. The process is simple: hold the device to the area you want to correct for three minutes, then repeat until you've covered all areas. 
13
The Budget-Friendly Choice
LED Face Mask
If you want to experiment with LED masks without breaking the bank, this offering features lights that kill bacteria under the surface, calms skin, reduces fine lines and wrinkles, all for just over $100.  
14
The Smart Mask
Foreo UFO
Not your typical LED mask but it functions just the same. The Foreo UFO using hot and cold temperature settings to improve the skin in just 90 seconds. Plus, the pulsating section of the treatment feels like a spa-quality face massage. You're welcome.  
15
The Acne Zapper
Quasar MD Blue
The beauty about the Quasar MD Blue is that it can be used all over your body and emits blue light to kill bacteria and stop breakouts dead in its tracks.
16
The Tech Neck Savior
Boost LED Advanced Light Therapy Décolletage Bib
This LED treatment uses red light to smooth out the neck and shoulder area because your neck needs love too. 
This content is created and maintained by a third party, and imported onto this page to help users provide their email addresses. You may be able to find more information about this and similar content at piano.io
Advertisement – Continue Reading Below