9 Natural Face Washes For Healthier Skin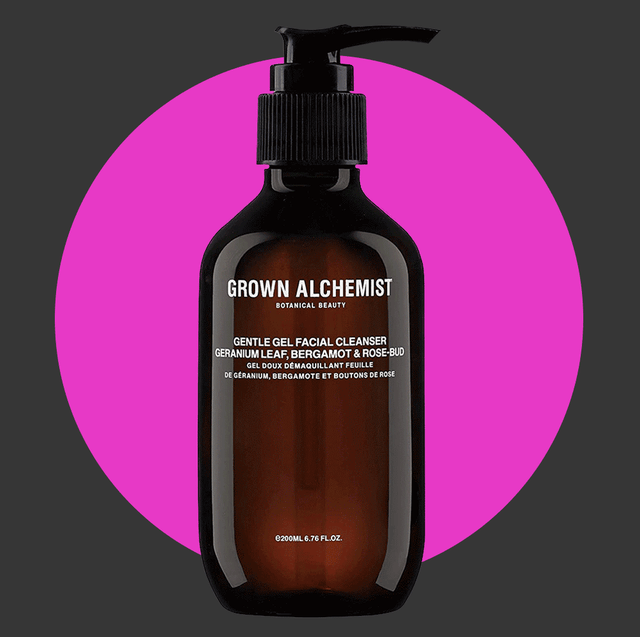 Sensitive skin? Pregnant? Just want to be one with nature? If you can check any of these boxes, natural face wash is definitely for you. "Ideal for those who are struggling to find the right skincare products that are free from chemicals, preservatives, and fragrances, natural face wash can be a great alternative," explains New York City-based dermatologist Shereene Idriss.
Note, there are no government-enforced standards for what "natural" actually means—meaning, beauty brands can claim any of their products fall under the category. Elle.com previously reported that when looking for natural products, it's important to take a look at the product's label—noting where its ingredients were sourced and its supply chains.
Idriss also adds that natural face washes tend to have simple formulas which makes them more appealing to pregnant women who are worried about the chemicals they're putting in and on their bodies. Some natural face washes with fewer ingredients may also be ideal for those who tend to flare up from more complex products. So, what should you look for? "Pink clay is the gentlest of all clays that does not strip your skin of its natural oils, while remaining extremely effective at replenishing your skin with the nourishment it needs," says Idriss.
Idriss also plays favorites with the Tata Harper Regenerating Cleanser. "It buffs and polishes your skin with apricot seed powder, removes buildup with pink clay and pomegranate enzymes, and refines pore appearance with white willow bark—a natural salicylic acid," explains Idriss. See Tata Harper's Regenerating Cleanser and eight other options below.
Advertisement – Continue Reading Below
1
Organic Palmarosa + Aloe Face Wash
Earth tu Face
amazon.com
$52.00
All Earth Tu Face products are free from added fragrances, preservatives, and fillers so even the most sensitive skin can rest easy. The foamy cleanser is also made up of nourishing oils like coconut, jojoba, and olive. Yum.
2
Naked Papaya Gentle Enzyme Face Cleanser
Kinship
lovekinship.com
$22.00
This face wash adds zing to every cleansing session with its energizing citrus scent. Its formula contains plant-derived enzymes and probiotics to help visibly brighten skin.  
3
Fantastic Face Wash
Ursa Major
ulta.com
$28.00
Made from 99.5 percent natural ingredients, this cleanser exfoliates using natural AHA/BHA fruit acids and then hydrates with aloe. Goodbye dead skin cells, hello healthy and natural glow.
4
Face Cleanser
Meow Meow Tweet Tweet
meowmeowtweet.com
$25.00
This milky cleanser melts onto your skin and sweeps away waterproof makeup, dirt, and debris with ease. It leaves behind soft skin, an earthy scent, and zero residue.
5
Intense Defense Cleansing Gel
Avalon Organics
amazon.com
Vitamin C brings the heat against wrinkles, dull skin, and the appearance of fine lines. The lathering foam works over time to reveal fresher, brighter skin.
6
Brightening Honey Melt Facial Cleanser
Kiwi Botanicals
walmart.com
$7.97
This cleanser starts as a thick gel and—as the name says—melts into a slippery foam that sweeps dirt and makeup from your skin. Its manuka honey is responsibly sourced and helps thoroughly cleanse skin to leave it feeling soothed and touchably soft. 
7
Regenerating Cleanser
Tata Harper
tataharperskincare.com
$42.00
Made from 100 percent natural ingredients, it's no wonder this is Dr. Idriss' favorite of the bunch. The Australian pink clay works to rid skin of impurities and clogged pores, revealing smaller, healthier pores. 
8
Gentle Gel Facial Cleanser
grownalchemist.com
$39.00
This gel cleanser, with its blend of botanical oils (like bergamot and sweet orange) and squalene (an ingredient that mimics skin's natural oil content), cleanses and noticeably softens skin.
9
Fermented Rice Water Cleanser
It's all about sake in this boozy beauty cocktail. Sake is full of minerals and acids that work to exfoliate the skin; it also acts as a bit of an astringent for oilier complexions.
This content is created and maintained by a third party, and imported onto this page to help users provide their email addresses. You may be able to find more information about this and similar content at piano.io
Advertisement – Continue Reading Below
All About Ashley Olsen's Boyfriend Louis Eisner, the Artist She's Been Low-Key Dating for Years
Ashley Olsen and her twin Mary-Kate Olsen have kept their lives as private as two world-famous child stars-turned-adult designers can manage. But while the girls haven't spoken about their love lives, the tabloids and paparazzi have gotten some details on who they're with. Mary-Kate has been married to Olivier Sarkozy since 2015 but requested an emergency divorce in May 2020, during the coronavirus pandemic. That divorce was finalized in January 2021.
Ashley, meanwhile, is currently dating a 32-year-old artist, Louis Eisner. The two have been photographed together a couple times. After nearly a year not being seen, they signaled their relationship is still on and strong this past Sunday when they were photographed out in New York City on a date.
Here, details on who Eisner is along with his and Ashley's dating history.
What does Louis Eisner do?
Eisner is a bicoastal artist who grew up in California. His mother Lisa is a famous fashion photographer and jewelry designer, so there's art in his blood. He wrote a glowing caption about her on his Instagram last Mother's Day. "You gave me life and also taught me how to find its magical beauty," he wrote to her. "Forever thankful to you and all the mothers in the world."
This content is imported from Instagram. You may be able to find the same content in another format, or you may be able to find more information, at their web site.
He was featured in Interview back in December 2010, where the outlet noted that Eisner went to Columbia University and studied art history. He was part of Still House Group, a collective of young artists, for years after he graduated.
You can see some of his paintings formerly on auction at Artnet.com. He has a more abstract style. Apparently Ivanka Trump bought an Eisner piece in 2013, so his work is part of her art collection.
How old is Eisner?
Eisner was born on July 31, 1988, so he'll be 33 this summer. He shared a shot from his high school yearbook on his Instagram, which publicly revealed his birth date. He's a Leo!
When did he and Ashley meet and start dating?
Not much has been revealed about the two's romance. RadarOnline reported back in February that the two quietly started dating in 2017 after being just friends for years. Grazia notes they were first seen publicly at the Hammer Museum's Gala in the Garden in October 2017.
They allegedly met through mutual high school friends and have known each other for more than five years.
Are Ashley and Louis close with Mary-Kate and Olivier Sarkozy?
When that Mary-Kate first separated from her husband of nearly five years in May 2020, Ashley was supportive of her sister during this time. A source told E! that Mary-Kate was quarantining with Ashley and a group of friends outside of New York City. "It's gotten very ugly between them [Mary-Kate and Olivier]," the source said, referring to it as a "heated divorce." Mary-Kate is "done with constant drama," the source added.
But before Mary-Kate and Olivier's relationship ended, they were seen out a few times with Ashley and her significant other. In June 2019, the sisters celebrated their 33rd birthdays with Eisner and Sarkozy by their sides, according to E!. And in November 2019, the Daily Mail ran photos of the Olsen twins with their respective partners, double-dating at Bowery Hotel's Gemma restaurant in New York City.
How serious are Ashley and Eisner now?
Radar's source in February 2019 said the two were "very much in love."
An insider also explained to Radar that Eisner likes his privacy, and that's why he hasn't walked any red carpets with his girlfriend. (Ashley seldom walks red carpets, for what it's worth.) "It's not that they are trying to keep their relationship on the down low, Louis just doesn't like the spotlight—even less so than Ashley," the source said.
Back in 2018, a source told the outlet that they're not about to get married either. "They're not in a rush," Radar's source said. "He's a long-term relationship kind of guy, but he doesn't follow societal norms."
In Mary-Kate and Ashley's August 2018 WSJ magazine interview, the outlet noted that Ashley was contemplating moving to Los Angeles full-time. This could be in part because that's where Eisner has been based. A 2017 New York Times profile on his mom described him as commuting back and forth between Los Angeles and Mexico City.
Eisner has been to some major public events for Ashley. He was at her and Mary-Kate's 33rd birthday party in New York City, E! reported, where he had dinner with their friends and Mary-Kate's husband.
On July 29, 2019, the couple made a rare appearance out in Pacific Palisades, California, where they were photographed going to see Once Upon a Time in Hollywood.
Is Eisner on social media?
Eisner has an Instagram, which mostly shows artwork. He does, however, share personal photos from time to time, although he has never posted any of him and Ashley together. He posted one about his brother in March 2018.
This content is imported from Instagram. You may be able to find the same content in another format, or you may be able to find more information, at their web site.
He also shared a yearbook photo of himself in January 2019, writing, "Tbt Senior page. Forgot to give them a baby photo but now this is my baby photo."
This content is imported from Instagram. You may be able to find the same content in another format, or you may be able to find more information, at their web site.
How are Eisner and Ashley doing during the coronavirus pandemic?
A year into quarantining, Eisner and Ashley's relationship is still very much on. The couple of nearly four years now was photographed in New York City on Sunday, March 14 on a double date with friends. Daily Mail ran photos of the two alongside each other in coats. Eisner, in one shot, has an arm around Ashley's back. According to the outlet, the couple had dinner and wine with W magazine editor-in-chief Sara Moonves and her boyfriend, fashion photographer, Jeff Henrikson.
This content is created and maintained by a third party, and imported onto this page to help users provide their email addresses. You may be able to find more information about this and similar content at piano.io
Lorraine Schwartz is Giving Back in Diamonds
March marks the beginning of spring, so new spring fashion is just around the corner (even if it's not quite time to put away your winter coat yet). We're rounding up the hottest drops of the month, and this week brings an initiative to help BIPOC jewelry designers, spearheaded by jewelry legend Lorraine Schwartz.
Come back for more as we continue to update our gallery with the latest fashion news and launches that you do not want to miss.
This content is created and maintained by a third party, and imported onto this page to help users provide their email addresses. You may be able to find more information about this and similar content at piano.io
Meghan Markle's Veja Sneakers Are 30 Percent Off Right Now
It's been a few years since Meghan Markle and Prince Harry's October 2018 Australia royal tour, but one accessory to emerge from the trip has remained steadfast: the effortlessly chic Veja sneakers the Duchess of Sussex sported on a boat in Sydney.
As anyone else who's ever waited for a restock of Veja's core styles will know, the celebrity-loved brand still sells out of sizes three years later. This brings very good newsfor those of you who've long awaited an online shopping miracle. Bandier currently has a handful of Veja styles on sale for 30 percent off as part of a friends and family sale that kicks off today, March 16. The sale covers most of the luxe e-tailer's site and savings are reflected in cart at checkout.
Aside from the French brand's star-studded list of wearers (Katie Holmes and Reese Witherspoon also own a pair of Vejas), Veja stands out for being one of the early prioritizers of sustainability. Veja sources all of its raw materials directly, and the brand is fully transparent about every step of its production process.
Considering how Veja sneakers rarely, if ever, go on sale, now would be a very wise time to treat yourself to a pair before they inevitably sell out and are back to being full price on March 21. Meghan Markle would approve!
This content is created and maintained by a third party, and imported onto this page to help users provide their email addresses. You may be able to find more information about this and similar content at piano.io