Today's Inauguration Fashion Inaugurated A New Era for Young Designers
Rogers: ImaxtreeGetty Images
Style Points is a weekly column about how fashion intersects with the wider world.
When Michelle Obama wore designs by Isabel Toledo and Jason Wu to the 2009 inauguration, it marked a huge moment in the careers of both designers. Over the course of her time as First Lady, the rising tide of her fashion choices helped lift names like Brandon Maxwell, Thakoon, and Sophie Theallet into the national spotlight—and the pieces she wore often sold out. It seems that, with their choices for the inauguration events, Vice President Kamala Harris and First Lady Jill Biden are taking a similar approach—and using their platform to help boost the profiles of talented young American designers.
Harris made a point of wearing looks by two Black designers—Kerby Jean-Raymond of the label Pyer Moss, and Christopher John Rogers—befitting her historic status as the first Black person to hold the office. Jean-Raymond explains that the backstory behind the camel coat that Harris wore yesterday stretches back well before Inauguration Day. "Kamala's stylist reached out the day after she was announced as Joe Biden's running mate. We talked about several projects but always intended to be part of the inauguration," he says. "We made several options including dresses and accessories for Kamala and ultimately she chose this jacket which the stylist said is 'the cat's meow.'"
Jean-Raymond worked on the piece with frequent collaborator Camilla Huey, a costume designer and couturier who he calls "a constant in my life and part of my growth as a designer. She's taught me how to achieve more difficult executions that I didn't know how to do before. She was a part of creating my Sculpture for the MoMA and several of the Met Gala looks I created in 2019, some of which remain unseen publicly," he says. "We began working on a fairly ordinary jacket but we got approval to make some changes this week to incorporate some of our brand identity on the piece. The knife pleat is one of our favorite mainstays in our collections." As is the wave symbol, which here, he says, represents ""a new wave."
The designer adds that he hopes the next four years bring "accountability to Black peoples' issues in this country. Good will from brands is non-transferable to the wearers," he notes. "Wearing Pyer Moss doesn't absolve anyone from doing the work; instead it's a commitment to go above and beyond."
Meanwhile, Rogers posted Harris wearing his design on Instagram, writing "Thank you, Madam Vice President. We are so honored and humbled to have played a small part in this historic moment. 💜"
Biden selected a blue overcoat and dress by Markarian, a line made in New York City's famed garment center. "It is an incredible honor to dress Dr. Biden today," designer Alexandra O'Neill tells ELLE. "I am so humbled to be even a small part of American history." Biden also picked Jonathan Cohen, a Mexican-American designer who focuses on sustainable fashion, for a COVID memorial service held the night before the inauguration. The mask she wore, as well as the coat's lining, was made from upcycled fabrics. Said Cohen on Instagram, "Waking up with immense pride and gratitude. Here's to a new day."
All of these fashion choices felt carefully considered, and they needed to be. Walking the line of political style right now is as tricky as walking a plank. We crave glamour, but in the midst of a pandemic and crushing economic pain, it feels crass to get gussied up—insert one ill-advised ruffle into the mix, and suddenly you're Marie Antoinette. Women in politics get equal amounts of flak for wearing designer clothes and for being too dressed-down. The occasional tan suit aside, men in this sphere get little to no pushback. That is changing as politicians shift, for better or for worse, into fashion influencers of a kind, and as younger Congressional entrants like Rep. Cori Bush proudly wear thrifted looks to the Capitol, but the double standards still remain firmly in place. (After all, no one is speculating much on the hidden meaning behind Joe Biden's choice to wear a Ralph Lauren suit.)
Those concerns had to be on the minds of both women and their teams today. Harris, whose no-fuss, comfort-first wardrobe on the campaign trail earned her the nickname "the Converse candidate," chose looks that were simple and straightforward with a bit of visual interest, like Rogers's vivid purple coat, one of the train-loving designer's more restrained silhouettes. She is known to favor pearls, and broke out a Wilfredo Rosado necklace for today's events. The First Lady's aesthetic felt a bit more retro; her Markarian look was a modernized version of a '50's silhouette, accented by a velvet collar and cuffs and sprinkled with a subdued ration of Swarovski crystals, striking a balance between nostalgia and modernity.
Harris's and Biden's style choices don't just resonate on a symbolic level, though—they could have a tangible impact on the economic fortunes of the designers they have chosen to support. A Harvard Business Review study found that when Michelle Obama wore a brand's clothing, its stock price soared. It's an understatement to say that it is a challenging time to be a small business right now, and fashion businesses are no different. If today's style statements are anything to go by, Biden and Harris seem to be making a commitment to boost an American industry—one that could benefit greatly from their shared co-sign.
This content is created and maintained by a third party, and imported onto this page to help users provide their email addresses. You may be able to find more information about this and similar content at piano.io
9 Natural Face Washes For Healthier Skin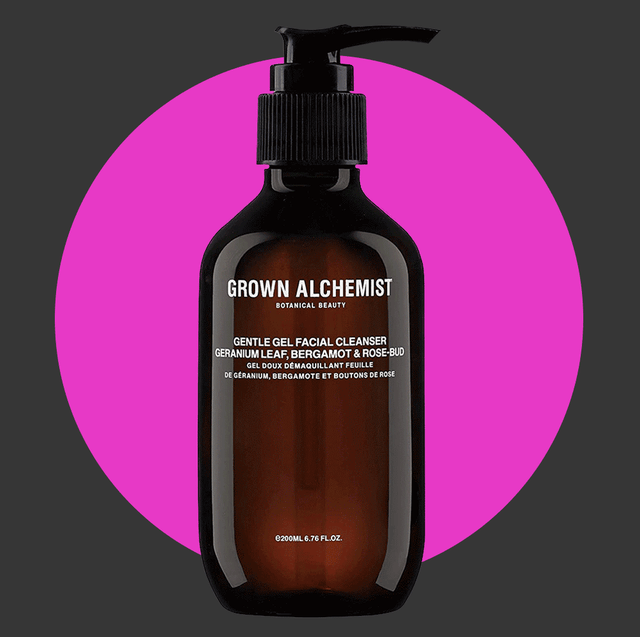 Sensitive skin? Pregnant? Just want to be one with nature? If you can check any of these boxes, natural face wash is definitely for you. "Ideal for those who are struggling to find the right skincare products that are free from chemicals, preservatives, and fragrances, natural face wash can be a great alternative," explains New York City-based dermatologist Shereene Idriss.
Note, there are no government-enforced standards for what "natural" actually means—meaning, beauty brands can claim any of their products fall under the category. Elle.com previously reported that when looking for natural products, it's important to take a look at the product's label—noting where its ingredients were sourced and its supply chains.
Idriss also adds that natural face washes tend to have simple formulas which makes them more appealing to pregnant women who are worried about the chemicals they're putting in and on their bodies. Some natural face washes with fewer ingredients may also be ideal for those who tend to flare up from more complex products. So, what should you look for? "Pink clay is the gentlest of all clays that does not strip your skin of its natural oils, while remaining extremely effective at replenishing your skin with the nourishment it needs," says Idriss.
Idriss also plays favorites with the Tata Harper Regenerating Cleanser. "It buffs and polishes your skin with apricot seed powder, removes buildup with pink clay and pomegranate enzymes, and refines pore appearance with white willow bark—a natural salicylic acid," explains Idriss. See Tata Harper's Regenerating Cleanser and eight other options below.
Advertisement – Continue Reading Below
1
Organic Palmarosa + Aloe Face Wash
Earth tu Face
amazon.com
$52.00
All Earth Tu Face products are free from added fragrances, preservatives, and fillers so even the most sensitive skin can rest easy. The foamy cleanser is also made up of nourishing oils like coconut, jojoba, and olive. Yum.
2
Naked Papaya Gentle Enzyme Face Cleanser
Kinship
lovekinship.com
$22.00
This face wash adds zing to every cleansing session with its energizing citrus scent. Its formula contains plant-derived enzymes and probiotics to help visibly brighten skin.  
3
Fantastic Face Wash
Ursa Major
ulta.com
$28.00
Made from 99.5 percent natural ingredients, this cleanser exfoliates using natural AHA/BHA fruit acids and then hydrates with aloe. Goodbye dead skin cells, hello healthy and natural glow.
4
Face Cleanser
Meow Meow Tweet Tweet
meowmeowtweet.com
$25.00
This milky cleanser melts onto your skin and sweeps away waterproof makeup, dirt, and debris with ease. It leaves behind soft skin, an earthy scent, and zero residue.
5
Intense Defense Cleansing Gel
Avalon Organics
amazon.com
Vitamin C brings the heat against wrinkles, dull skin, and the appearance of fine lines. The lathering foam works over time to reveal fresher, brighter skin.
6
Brightening Honey Melt Facial Cleanser
Kiwi Botanicals
walmart.com
$7.97
This cleanser starts as a thick gel and—as the name says—melts into a slippery foam that sweeps dirt and makeup from your skin. Its manuka honey is responsibly sourced and helps thoroughly cleanse skin to leave it feeling soothed and touchably soft. 
7
Regenerating Cleanser
Tata Harper
tataharperskincare.com
$42.00
Made from 100 percent natural ingredients, it's no wonder this is Dr. Idriss' favorite of the bunch. The Australian pink clay works to rid skin of impurities and clogged pores, revealing smaller, healthier pores. 
8
Gentle Gel Facial Cleanser
grownalchemist.com
$39.00
This gel cleanser, with its blend of botanical oils (like bergamot and sweet orange) and squalene (an ingredient that mimics skin's natural oil content), cleanses and noticeably softens skin.
9
Fermented Rice Water Cleanser
It's all about sake in this boozy beauty cocktail. Sake is full of minerals and acids that work to exfoliate the skin; it also acts as a bit of an astringent for oilier complexions.
This content is created and maintained by a third party, and imported onto this page to help users provide their email addresses. You may be able to find more information about this and similar content at piano.io
Advertisement – Continue Reading Below
13 Red Carpet Photos From Classic Horror Movie Premieres
The Silence of the Lambs (1991)
Star Jodie Foster rocks a black two-piece at the Los Angeles red carpet premiere of The Silence of the Lambs on February 1, 1991.
For her work in the film, Foster brought home the Academy Award for Best Actress. Lambs also scored Oscars for Best Actor (Anthony Hopkins as Hannibal Lector), Best Screenplay, Best Director, and Best Picture. To date, only six horror films–The Exorcist (1974), Jaws (1976), The Silence of the Lambs (1991), The Sixth Sense (1999), Black Swan (2010), and Get Out (2017)–have earned a Best Picture nomination at the Oscars. The Silence of the Lambs is the only one to win the honor.
Unsolved Mysteries That Will Shock You to Your Core
The Lizzie Borden Murders: Part 1
On August 4, 1892, a wealthy businessman by the name of Andrew Borden, 66, and his second wife Abby were discovered brutally hacked to death in their home in Fall River, Massachusetts. Andrew's youngest daughter, Lizzie, 32, was home when the murders occurred, but she was supposedly in the backyard barn. The only other person home at the time of their death was the Borden's maid, Bridget Sullivan, who claims she was in her third-floor bedroom taking a nap. She awoke when she heard Lizzie calling for help from the first floor. When she ran downstairs, she saw Lizzie overlooking her dead father, who was lying on the couch – his face nearly hacked in two. Lizzie's stepmother was later discovered in a second-floor bedroom, and the police came to the scene. After searching the house, authorities found a hatchet, similar to the one used on Andrew and Abby. Mounting evidence began to point suspicion towards Lizzie, and she was arrested on August 11, 1892. (continued)