30 Grown Gifts For Your Friend's 30th Birthday
Welcome to your thirties, where you love things like "good" plates and finally learn how to pronounce psoas out of necessity. Turning thirty isn't truly a milestone like people once posed it to be, but it does bring on a phase in life where you are open to change, and become a little more self-aware. That doesn't mean that bar crawling days are over (plus you're still an active member of the TikTok community), but you are not the same person you were in your roaring twenties. When it comes to ushering your friends and family into this era, mark their birthday with something they'll love, like a stick vacuum cleaner. Ahead, we suggest practical home goods, wellness treats that aren't a blow to the ego, then again, and timeless fashion picks they'll cherish forever.
1 of 30
Always Pan
Our Place
fromourplace.com
$145.00
Saving recipes in a well-organized Instagram folder is her kink. 
2 of 30
2 Initial and Diamond Necklace
ByChari
bychari.com
$285.00
if she's trying to be more conscious of wearing solid gold only, consider this Michelle Obama-approved necklace.  
3 of 30
LE LIFT Firming
Chanel
chanel.com
$130.00
Here's an under-$150 luxury gift she'll love, but would never buy for herself. 
4 of 30
Balance My Stress
Peak + Valley
peakandvalley.co
$38.00
Who doesn't need help de-stressing these days? 
5 of 30
The Airlift Harmony Set
Alo Yoga Set
aloyoga.com
$294.00
A new yoga set will be a game-changer for her practice. 
6 of 30
Rainbow Sweater
Farm Rio
farmrio.com
$135.00
A sweater that speaks to her inner child. 
7 of 30
Zucchino Mini Mama Baguette
Fendi
fashionphile.com
$615.00
Maybe she's transitioning into investment bags only. The best place to start is through a trusted secondhand retailer like Fashionphile. 
8 of 30
Long Robe
This robe will help her live out her cozy dreams. 
9 of 30
Mega Mothership: Celestial Divinity Eyeshadow Palette
PAT McGRATH LABS
sephora.com
$78.00
For the beauty-obsessed, go for gold (and purples and greens) by giving this gorgeous palette. 
10 of 30
Stainless Steel Water Bottle
You don't have to agree with a Prada water bottle to gift a Prada water bottle. 
11 of 30
This Smells Like My Prenup Candle
goop x Heretic
goop.com
$75.00
An alternative candle from this collab is a little more risqué.  
12 of 30
Tasman Slippers
Ugg slippers are, in our opinion, the ultimate no-brainer gift.  
13 of 30
Self-Watering Pots
MoMa
burkedecor.com
$34.00
Sure, they're wiser, but somehow they always forget to water their plants. This pot is their solution. 
14 of 30
Knitted Mermaid Tail Blanket
Just because they're 30 doesn't mean they won't enjoy this gift 
15 of 30
Set of 4 Agate Coasters
Shopbop @Home
shopbop.com
$65.88
Water rings are better left in your twenties. 
16 of 30
Set of 4 Cotton Napkins
Dusen Dusen
nordstrom.com
$42.00
Zero-waste never looked this cool. 
17 of 30
Trail Fury Sneakers
Reebok x Pyer Moss
stockx.com
$253.00
Did your BFF miss the first drop of these sneakers? Be a good friend and scour them on StockX. 
18 of 30
V7 Vacuum Cleaner
Dyson
amazon.com
$329.99
$293.49 (11% off)
You know you're an adult when you freak out over receiving a vacuum for your birthday. 
19 of 30
Caste: The Origins of Our Discontents
by Isabel Wilkerson
bookshop.org
$29.44
Start a book club with them and kick things off with this Pulitzer Prize-winning read.
20 of 30
Chocolat 18 Bag
Balmain
balmain.com
$2,995.00
This bag bridges their two loves, chocolate and Balmain.  
21 of 30
Jigsaw Puzzle
For hypebaes who love puzzles. 
22 of 30
Stimulating Therapy Massager
Briogeo Hair
briogeohair.com
$16.00
Hair salons might be closed in some states right now, so give them a gift reminiscent of the real reason we get our hair cut professionally: the mind-tingling head massage. 
23 of 30
Small Triomphe Wallet
Celine
celine.com
$782.00
It's time for a grown-up wallet. 
24 of 30
Curvy Vase
Jungalow
jungalow.com
$59.00
Everyone has a friend whose interior design aesthetic is "naked body parts." 
25 of 30
Quincy Composite Agate Cheese Board
Anthropologie
anthropologie.com
$68.00
Here's a chic board just as good as the cheese it displays. 
26 of 30
Brazilian Bum Bum Cream
Sol de Janeiro
sephora.com
$45.00
Help them give love to their favorite body part. 
27 of 30
Mini Stylers Bundle
Pattern Beauty
patternbeauty.com
$30.00
Gift them a mini-set that helps them figure out which hair products are right for them.  
28 of 30
Ludlow Jumpsuit
Lacausa
lacausaclothing.com
$198.00
To be honest, jumpsuits are great for newborns and 30-somethings. 
29 of 30
Beauty Bear Age Delay Pillow Memory Foam Edition
Nurse Jamie
dermstore.com
$79.00
Turning 30 might make someone hyper-aware of everything that contributes to wrinkles. We're all for embracing aging, but in case they're trying to slow down time, this pillow can help. 
30 of 30
Birthday Cake Pack
Parade
yourparade.com
$34.00
Not their birthday suit, but close to it. 
Advertisement – Continue Reading Below
This content is created and maintained by a third party, and imported onto this page to help users provide their email addresses. You may be able to find more information about this and similar content at piano.io
The Best Fall Hair Trends from Fashion Month 2021
Middle parts, sleek pony's, and volume galore!
9 Natural Face Washes For Healthier Skin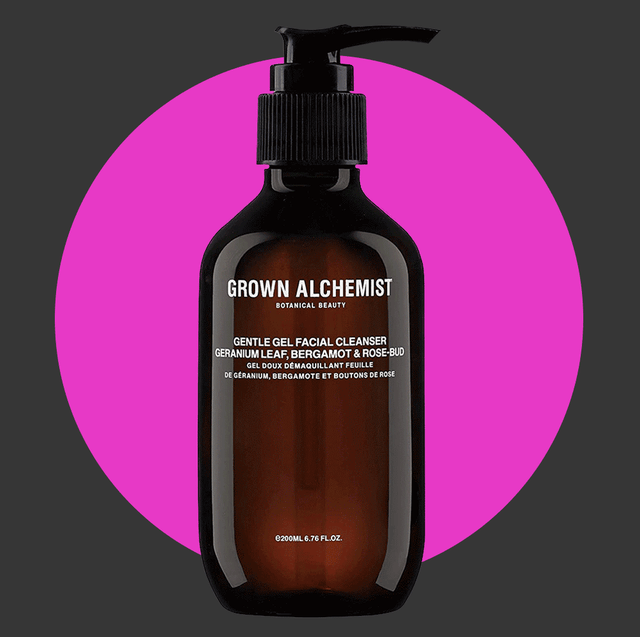 Sensitive skin? Pregnant? Just want to be one with nature? If you can check any of these boxes, natural face wash is definitely for you. "Ideal for those who are struggling to find the right skincare products that are free from chemicals, preservatives, and fragrances, natural face wash can be a great alternative," explains New York City-based dermatologist Shereene Idriss.
Note, there are no government-enforced standards for what "natural" actually means—meaning, beauty brands can claim any of their products fall under the category. Elle.com previously reported that when looking for natural products, it's important to take a look at the product's label—noting where its ingredients were sourced and its supply chains.
Idriss also adds that natural face washes tend to have simple formulas which makes them more appealing to pregnant women who are worried about the chemicals they're putting in and on their bodies. Some natural face washes with fewer ingredients may also be ideal for those who tend to flare up from more complex products. So, what should you look for? "Pink clay is the gentlest of all clays that does not strip your skin of its natural oils, while remaining extremely effective at replenishing your skin with the nourishment it needs," says Idriss.
Idriss also plays favorites with the Tata Harper Regenerating Cleanser. "It buffs and polishes your skin with apricot seed powder, removes buildup with pink clay and pomegranate enzymes, and refines pore appearance with white willow bark—a natural salicylic acid," explains Idriss. See Tata Harper's Regenerating Cleanser and eight other options below.
Advertisement – Continue Reading Below
1
Organic Palmarosa + Aloe Face Wash
Earth tu Face
amazon.com
$52.00
All Earth Tu Face products are free from added fragrances, preservatives, and fillers so even the most sensitive skin can rest easy. The foamy cleanser is also made up of nourishing oils like coconut, jojoba, and olive. Yum.
2
Naked Papaya Gentle Enzyme Face Cleanser
Kinship
lovekinship.com
$22.00
This face wash adds zing to every cleansing session with its energizing citrus scent. Its formula contains plant-derived enzymes and probiotics to help visibly brighten skin.  
3
Fantastic Face Wash
Ursa Major
ulta.com
$28.00
Made from 99.5 percent natural ingredients, this cleanser exfoliates using natural AHA/BHA fruit acids and then hydrates with aloe. Goodbye dead skin cells, hello healthy and natural glow.
4
Face Cleanser
Meow Meow Tweet Tweet
meowmeowtweet.com
$25.00
This milky cleanser melts onto your skin and sweeps away waterproof makeup, dirt, and debris with ease. It leaves behind soft skin, an earthy scent, and zero residue.
5
Intense Defense Cleansing Gel
Avalon Organics
amazon.com
Vitamin C brings the heat against wrinkles, dull skin, and the appearance of fine lines. The lathering foam works over time to reveal fresher, brighter skin.
6
Brightening Honey Melt Facial Cleanser
Kiwi Botanicals
walmart.com
$7.97
This cleanser starts as a thick gel and—as the name says—melts into a slippery foam that sweeps dirt and makeup from your skin. Its manuka honey is responsibly sourced and helps thoroughly cleanse skin to leave it feeling soothed and touchably soft. 
7
Regenerating Cleanser
Tata Harper
tataharperskincare.com
$42.00
Made from 100 percent natural ingredients, it's no wonder this is Dr. Idriss' favorite of the bunch. The Australian pink clay works to rid skin of impurities and clogged pores, revealing smaller, healthier pores. 
8
Gentle Gel Facial Cleanser
grownalchemist.com
$39.00
This gel cleanser, with its blend of botanical oils (like bergamot and sweet orange) and squalene (an ingredient that mimics skin's natural oil content), cleanses and noticeably softens skin.
9
Fermented Rice Water Cleanser
It's all about sake in this boozy beauty cocktail. Sake is full of minerals and acids that work to exfoliate the skin; it also acts as a bit of an astringent for oilier complexions.
This content is created and maintained by a third party, and imported onto this page to help users provide their email addresses. You may be able to find more information about this and similar content at piano.io
Advertisement – Continue Reading Below
13 Red Carpet Photos From Classic Horror Movie Premieres
The Silence of the Lambs (1991)
Star Jodie Foster rocks a black two-piece at the Los Angeles red carpet premiere of The Silence of the Lambs on February 1, 1991.
For her work in the film, Foster brought home the Academy Award for Best Actress. Lambs also scored Oscars for Best Actor (Anthony Hopkins as Hannibal Lector), Best Screenplay, Best Director, and Best Picture. To date, only six horror films–The Exorcist (1974), Jaws (1976), The Silence of the Lambs (1991), The Sixth Sense (1999), Black Swan (2010), and Get Out (2017)–have earned a Best Picture nomination at the Oscars. The Silence of the Lambs is the only one to win the honor.